Best Places to Stay in Southern Utah
Zennest underwent a significant transformation in 2020, led by developer Les Ottolenghi. Fully renovated and restored, Zennest was Les's passion project and off-the-grid escape during the Covid-pandemic. Les purchased the cabin in the spring of 2020 and spent the summer and early fall bringing it back to life and completely modernizing it.
Perched 8,900 feet above sea level overlooking the Dixie National Forest, the Zennest luxury cabin, Eagle, looks out on infinite natural beauty. Rustic charm and recreational experiences meet 21st-Century conveniences and smart cabin amenities. Perfect for family vacations, corporate retreats, and special events.
On-site recreation includes two hot tubs, 6,000 square feet of decking, Fuze-ball, horseshoe and bean bag toss games, outdoor seating, and fire pits. Inside Eagle, you will find smart TVs and game rooms featuring a retro Star Wars pinball machine. The property is outfitted with fiber optic broadband for superior connectivity.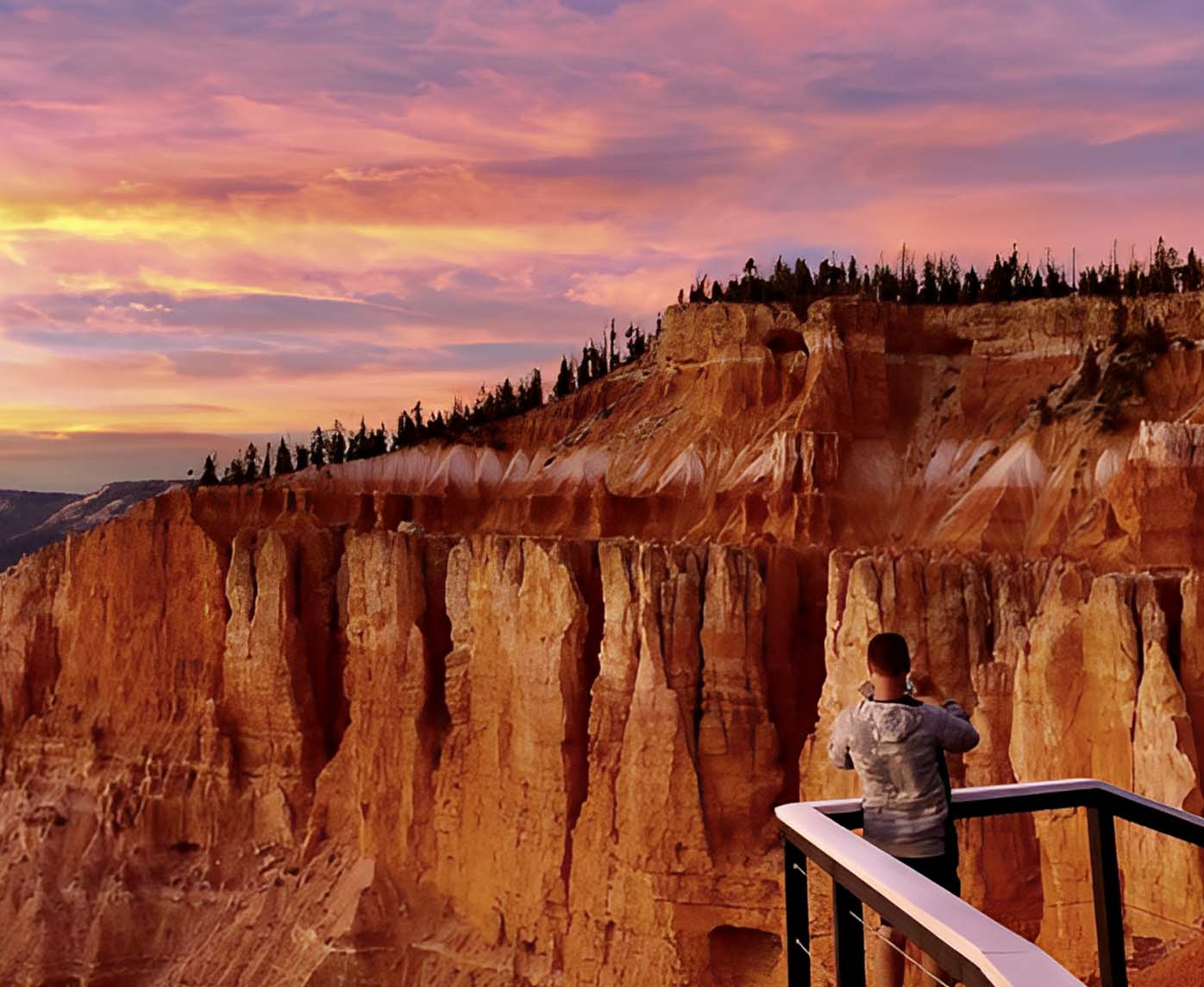 Mountains
The mountains surrounding the Zennest development are majestic and awe-inspiring. Hiking trails are available for those who want to explore the area on foot. Experience the serenity of the forest, the rugged terrain of the mountains, and the stunning vistas that await you at the top.
National Parks
Zennest is also just a short drive away from Bryce Canyon National Park, one of the most popular national parks in the country. Bryce Canyon offers stunning views of its unique geological formations, including hoodoos, natural arches, and amphitheaters. The park is a must-see destination for nature lovers and outdoor enthusiasts.
Stay connected and enjoy fast internet access throughout your stay. Whether you need to work remotely, stream your favorite shows, or stay in touch with loved ones, our high-speed Wi-Fi ensures a seamless online experience.
Discover the mysteries of the cosmos with our high-powered telescope, perfect for night gazing and capturing breathtaking astrophotography. Immerse yourself in the celestial wonders and create unforgettable memories under the starry sky.
Take advantage of our complimentary washer and dryer facilities. Keep your clothes clean and fresh during your stay, making it convenient for longer visits or if you need to refresh your wardrobe.
Our game room is a dedicated space for entertainment and fun. Enjoy a variety of games, such as pool, foosball, or board games, providing a great way to unwind and spend quality time with family and friends.
Keep your favorite wines perfectly chilled in our wine fridge. Whether you're a wine connoisseur or simply enjoy a glass now and then, our wine fridge ensures your wines are at the optimal temperature for enjoyment.
We provide free parking facilities for our guests. Leave your vehicle worry-free and conveniently access your accommodations. This amenity saves you the hassle of finding parking elsewhere and provides peace of mind during your stay.
Game room
First phase Eagle
Wine tours
Zion Vineyards
Snowmobile rental
Enjoy Winter at Zennest
small events held at Zennest
Outdoors view
treks and trails for the hiker
Hike Angles Landing
Bike Trails
Brian Head Trails